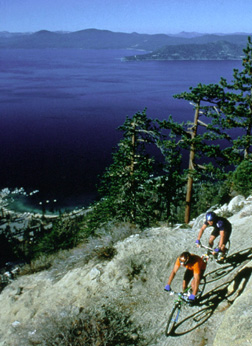 Register for this event!
Looking for some super fun Tahoe mountain biking this summer?
BONC
has just the event for you. Join us for a weekend of fun riding, camping, friendship, trail building and free beer on August 14 - 16!
Official dates are Friday 8/14th through Sunday 8/16th, with organized rides Friday night through Sunday. We'll have a range of ride levels and paces from very social to very challenging, along with gorgeous scenery and other recreation options.
On Saturday the 15th we'll build trail on the Donner Lake Rim Trail and ride later in the afternoon. We're also planning rides on the 13th & 14th for early arrivals - probably Armstrong Pass area with a Mr. Toads option on Thursday, and Mt. Rose/Flume/TRT area on Friday.
We'll be camping in the
Tahoe State Recreation Area
on Lake Tahoe; the campground has showers and is on Lake Tahoe in Tahoe City. It's not a wilderness experience – but on the other hand there are restaurants, shops, rafting/tubing on the Truckee River and swimming nearby - lots to do in addition to riding!
A suggested donation of $10 per person will cover our camping expenses. More details to come, so stay tuned. This event is in partnership with the Truckee Donner Land Trust, FATRAC, ROMP, MBOSC and other groups.